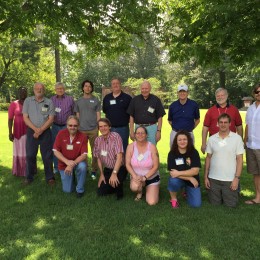 The Hemingway-Pfeiffer Museum & Educational Center recently held a Writing Retreat for Military Veterans. This weekend retreat was funded through a partnership with the Arkansas Humanities Council and the National Endowment for the Humanities. Over the course of the weekend, thirteen talented writers came together to hone their skills and to form a community in Northeast Arkansas at the site where Ernest Hemingway penned much of his iconic war novel A Farewell to Arms.
Dr. Rob Lamm of Arkansas State University served as mentor for the retreat. Lamm, a mentor at other retreats at HPMEC, said, "This was our first retreat attended exclusively by veterans." He continued, "All of the writers had works in progress, so some chose to continue those works. Many wrote on their experiences in the service: boot camp, deployments (including Vietnam, Afghanistan, Iraq, and Guantanamo Bay), and missions almost anywhere in the world. Others were interested in other creative genres." Asked what he took away from the retreat, Lamm replied, "I learned about experiences unique to those who have served their country and sometimes risked their lives doing so. I shared the synergy of the group as we inspired each other to write better and more."
Writers began each day with exercises to get them started, often looking at samples of Hemingway's writing as models for their own. They enjoyed lunch together at the Educational Center and ended the afternoon with a group meeting to reflect, share, and discuss the processes used by each writer. Between formal meetings, the writers had time to work individually, often in the same rooms where Hemingway wrote. The format allowed writers time to focus on their own creative interests, to receive feedback on their work, and to form relationships with other writers.
Writers' Retreats for general audiences are held twice annually at the Hemingway-Pfeiffer Museum in Piggott. The next retreat is scheduled for Nov. 2-6, 2015, with Pat Carr of Fayetteville serving as mentor. This is the museum's first retreat specifically for military veterans, though they are looking into the possibility of having another in the future. Click here for more information.