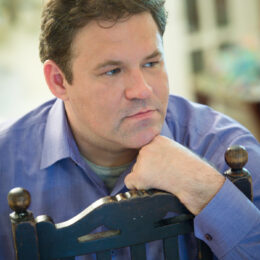 The museum announced its 2023 Writer-in-Residence this week, Matthew Pitt of Fort Worth, Texas. The residency is made possible by an underwriting sponsorship by Piggott State Bank.
Raised in St. Louis, Pitt previously worked in Los Angeles on a sitcom, New York City as an editor, and Massachusetts as a Teenage Mutant Ninja Turtle. These days, he operates as an Associate Professor of Creative Writing at TCU, in Ft. Worth. He also serves as Editor of the literary journal descant, and Contributing Editor for West Branch.
While Writer-in-Residence, Matt will complete edits on The Be-Everything! Brothers, a novella due out at the end of 2023. He is the author of two prior short fiction collections: These Are Our Demands, a Midwest Book Award winner; and Attention Please Now, winner of the Autumn House Prize and a Writers' League of Texas Book Award finalist. Individual stories have appeared in dozens of magazines, journals, and anthologies, including Oxford American, The Southern Review, Cincinnati Review, Conjunctions, Colorado Review, Southern Humanities Review, Epoch and Best New American Voices. His work has been cited in "Best of" annual anthologies, and won honors and awards from The New York Times, St. Louis Post-Dispatch, Mississippi Arts Commission, Bronx Arts Council, Inkwell, Missouri Review, Salem College Center for Women Writers, and Bread Loaf, Sewanee and Taos Writers' Conferences.
Matt will also work on a new novel, and his next collection, Unusual Poisons. National Book Award finalist Brandon Hobson recently selected this work-in-progress for a 2023-24 Everett Southwest Literary Award. One story was honored by The Saturday Evening Post. Another was winner of the Crab Orchard Review Grand Prize in Fiction, while a third received the William Faulkner Society Short Story Award, judged by author John Biguenet. Other stories in the collection have appeared in Blackbird, BOMB, Story, and an issue of Michigan Quarterly Review themed around Persecution, guest edited by Reginald Dwayne Betts. The residency will allow Pitt the opportunity to live and work in the community of Piggott for a month, sharing his knowledge and experience with local writers and working on his own writings. A more detailed schedule of the residency will be available later in the year.