The Pfeiffers
On July 4, 1913, Paul and Mary Pfeiffer moved from St. Louis, Missouri, to Piggott, Arkansas, where they eventually acquired 63,000 acres of land. Until Paul's death in 1944 and Mary's death in 1950, they were instrumental in making many of the improvements in Clay County, including assisting with schools, a hospital, a library, and paved roads.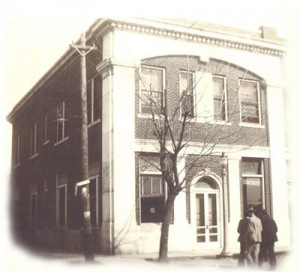 After the Bank of Piggott closed in 1930 during the Great Depression, it was immediately re-chartered as Piggott State Bank with Paul Pfeiffer as president, assisted by his wife. To this day, residents remember the Pfeiffers as key leaders in developing Piggott and Clay County.
Cedar Falls and Parkersburg, Iowa
One of ten siblings from Iowa, Paul's family was in the drugstore and pharmaceutical business in Cedar Falls. After working for a time in his older brother's drugstore, he became proprietor of his own drugstore in Parkersburg. Paul met and married Mary Downey of Parkersburg on Oct. 8, 1894. Two of their four children were born in Iowa: Pauline in 1895 and Karl in 1900.
St. Louis, Missouri
In 1901 Paul became a partner in establishing Pfeiffer Chemical Company in St. Louis, along with brothers Henry and Gus. Two additional children were born in St. Louis: Virginia in 1902 and Max in 1907 (who died during the 1918 influenza epidemic). Paul did not take to big-city living like his brothers, and instead began buying up agricultural land in Northeast Arkansas. Thus, when the Pfeiffers' St. Louis company merged with William R. Warner & Co. in Philadelphia, and later with the Richard Hudnut Company in New York, Paul chose not to remain with the business.
Piggott, Arkansas
When Henry and Gus moved to Philadelphia, and then on to New York, Paul moved his family to Arkansas. He had heard about the rich soil in this area from railroad men returning to St. Louis from cutting and hauling timber out of the region. The land was ripe for an entrepreneur to come in and blast out the cut-over stumps, drain the swamps, and convert the land to agricultural production. Paul Pfeiffer was such a person. Considered a model rural landowner, he developed a number of 40- and 80-acre tracts for tenant farmers, ultimately selling it off to them at reasonable rates and leaving a lasting legacy.