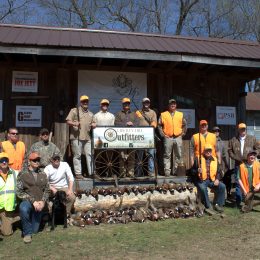 On Saturday, March 4, the Hemingway-Pfeiffer Museum hosted Papa's Upland Bird Hunt and Dinner at Liberty Hill Outfitters in Rector. The hunt celebrated Ernest Hemingway's hunting legacy in Northeast Arkansas.
Ernest Hemingway was a regular visitor of his in-laws, the Pfieffer family of Piggott, Arkansas. One of his favorite pastimes during his visits was quail hunting on Crowley's Ridge. On March 4, twenty hunters from around the country came to Crowley's Ridge to hunt and share a quail dinner. The hunt, a Continental style pheasant hunt, was hosted by Liberty Hill Outfitters. Chow at One Eighteen prepared the quail dinner.
Museum Director Adam Long said that this hunt is expected to become an annual event. He said, "This was our first charity hunt, and we had a great time. We expect to host another hunt next year." He continued, "The folks at Liberty Hill and Chow did a great job in making the event a success. We are also very thankful to our sponsors for their help."
This event was sponsored by First National Bank-Piggott, Glaub Farm Management, LLC, State Representative Joe Jett (paid for by State Representative Joe Jett), Olympus Construction, Inc., and Piggott State Bank.
To receive information about future hunts, please contact us.