Hemingway's Cuba Art Exhibit – James Richards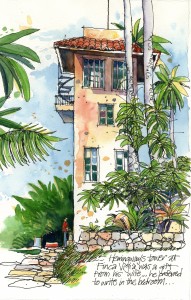 From October 27-November 14, an exhibition by James Richards, Associate Professor of Landscape Architecture at the University of Texas at Arlington, will be on display on the third floor of Dean B. Ellis Library in Jonesboro.  Here's Prof. Richard's description of his work:
"Hemingway's writing an life have long beckoned the adventurous in spirit.  Likewise, Cuba is a place of fascination for intrepid travelers, in part because Hemingway's spirit remains a palpable presence there.  In May 2014, the Hemingway-Pfeiffer Museum and Educational Center's tour Hemingway's Cuba provided both access to and excellent interpretation of this fascinating place and its connections to one of the giants of American literature.
As an artist and an academic, I'm interested in the intersection of place and creativity:  the cities, towns, landscapes and experiences that inspire ideas and great works.  Hemingway purposefully sought out places conducive to his writing–Paris and Key West, among others–but he lived and worked in Cuba longer than in any other setting.  Drawing offered a fascinating way to deeply see and experience these locales, and to document a personal response to the places and people we encountered.  These watercolor sketches offer a rare, authentic look at today's Cuba, where past and present intertwine, and at many of the largely unchanged settings that fueled Hemingway's imagination and some of his best writing."