Rentals
The Pfeiffer-Janes House and Hemingway Barn-Studio lawn and patio areas provide a beautiful setting for a Wedding, Wedding Reception, Anniversary Celebration, Dinner Meeting, Social Reception or Special Event. The lawn and patio can accommodate 20 to 200 guests for a seated dinner and up to 300 guests for a standing reception.
The Hemingway-Pfeiffer Educational Center is a peaceful retreat for meetings, seminars, study groups, or luncheon meetings. The Conference Room can accommodate 16 at tables and the covered patio can serve 24. Computer workstations are available.Special guided tours of the Pfeiffer-Janes House and the Hemingway Barn-Studio can be coordinated with your event. Tables, chairs, linens, large-screen TV and other amenities are available on site.
A detailed Rental Information Packet is available at the Museum Store office, or contact Shannon Williams, Director, for availability.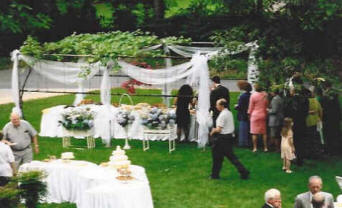 Rental Policies and Procedures
Rental Agreement for Lawn Events
Rental Agreement for Educational Center
Rental Amenities